BERLIN, DECEMBER 4-5, 2023
100 Free Tickets for Web3 Developers
Dear Developer! As a "Thank You Note" for your contribution in web3 space we prepared a pool of free tickets to NBX 2023 in Berlin!
Why Attend as a Developer?
Networking With Fellow Developers
Brella, an advanced mobile app is the heart of the NBX networking experience – easily reach out to other developers on built-in chat.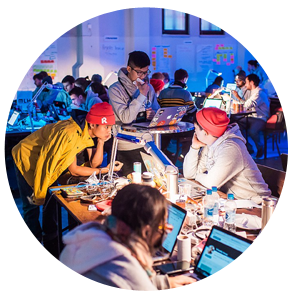 Meet Developers Communities
During NBX you will have a chance to meet with community leaders representing web3 dev communities across Europe.
Deep-dive Dev Workshops with Experts
Attend a selection of deep-dive workshops with web3 industry tech leaders – learn & get inspired. 
Brands Supporting Developers
Get One of 100 Free Dev Tickets to NBX 2023!​
Next Block Expo 2023 will be full of workshops – learn from practitioners, smart contract devs, ecosystem leads & core contributors in well-known protocls.
Get inspired by people that build web3 space – startup founders, tech leaders, core developers.
Get One of 100 Free Dev Tickets to NBX 2023!